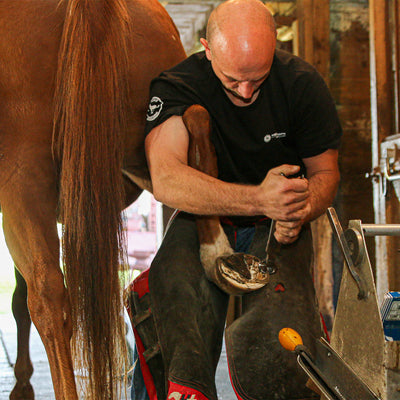 Order what you need
Shop online or order over the phone. If you have any questions, give our team a call and speak with one of our in-house farriers.
We'll double-check your order and ship it the same day
Every order gets checked and double checked before we ship it out. We guarantee all orders placed before 11 a.m. Central Standard Time are shipped the same day.
Complete the job
When your order is delivered correctly and on time, you'll be able to stay on schedule and satisfy your clients.
Largest Annual Farrier Event in Tennessee!
What you need, shipped the same day.
As a farrier, there's nothing worse than getting the wrong order.
Not only does it frustrate you, but it upsets your schedule and can be damaging to your reputation.
You deserve a dealer that you can depend on.
Our background is in horseshoeing, so we like to think that means we know a thing or two about what you need. We understand that when you need a product, you need it fast and you need it to be right when it gets there.  That's why all of our products are double-checked by two team members before they leave our facility, and they ship same-day when you place your order by 11 a.m. Central Standard Time.
Not too big, not too small, just right.
Tennessee Farrier Supply isn't the largest farrier supply company in the country, but we are the biggest in the state. That's a space we happily occupy, because it means that we have the resources to provide you with what you need, while maintaining strong personal relationships with our customers. If anything ever goes wrong with your order, we make it right. We understand that what you do is important, and we want to treat you that way. 
Contact Us
Video Library
Check out our library of educational videos, full of helpful tips, tricks and advice. Whatever your question, we're willing to bet you can find the answer in one of our videos!